Online Anxiety Therapy: Our Guide to Choosing the Best Counseling Service Online
In our guide to online anxiety therapy, we outline the pros and cons of online therapy and compare 3 of the best online counseling services available...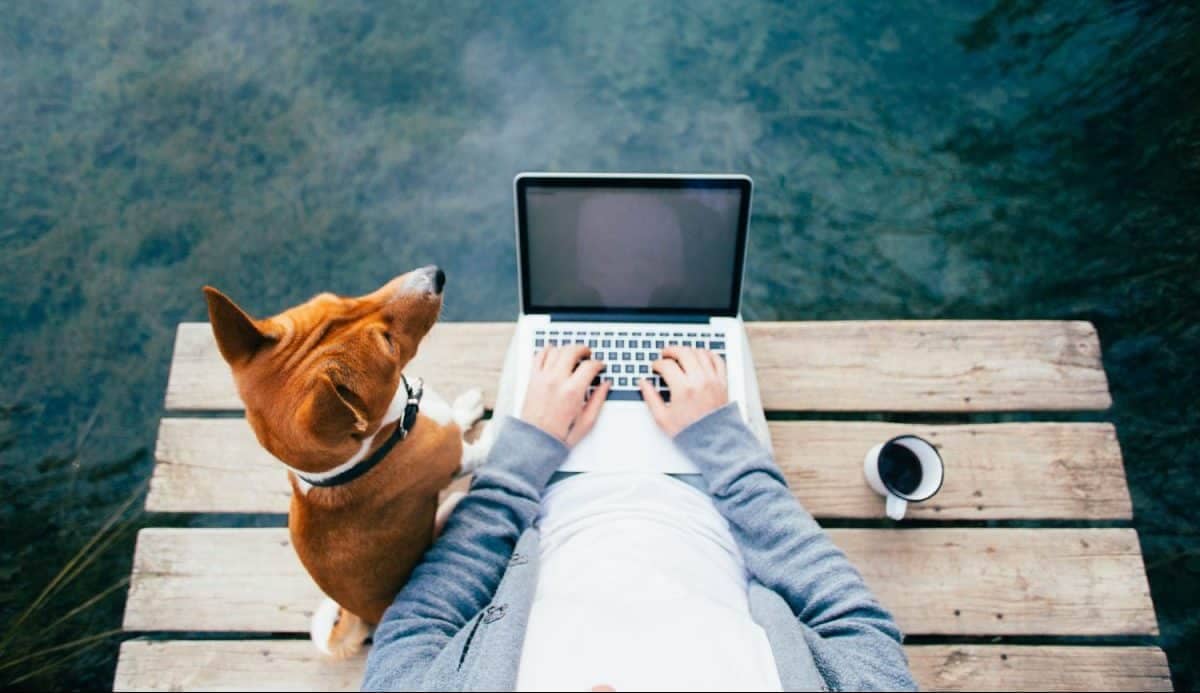 It's well known that therapy and the support of a good therapist can be instrumental for dealing with anxiety.
Therapy can be extremely effective with depression and other mental health issues as well.
Unfortunately, not everyone has access to a licensed therapist or counselor due to many different circumstances.
You may have limited access to a therapist because of where you live.
If you have a busy schedule you may not have time to see a therapist every week.
You may not have insurance or if you do have insurance it may not cover therapy and you just can't afford the high cost of traditional face-to-face therapy.
Fortunately, there are other more convenient options available for those who need it.
Online anxiety therapy is rapidly becoming an effective alternative to traditional face-to-face therapy.
Whether you have limited access to a therapist due to the circumstances described above or you just prefer the convenience of using an online counseling platform – online therapy could be a more convenient and accessible option to receive the therapy you are looking for.
In this article, we will dive into 3 of the most popular online therapy platforms for anxiety.
We will also break down the advantages and disadvantages of online anxiety therapy versus traditional in-person therapy and discuss the most important factor in therapy.
Finally we'll give our favorite online therapy platform and why we believe it is the best option for online counseling.
Hopefully, after reading this article you will be able to determine if online anxiety therapy is right for you.
So without further ado… let's jump right in.
Note: As a BetterHelp affiliate, we may receive compensation from BetterHelp if you purchase products or services through the links provided
Know Someone That Would Find This Content Helpful?
This Month's Featured Course
(January 2023)
Many of us with anxiety tend to have a sensitive or empathic nature – we may often feel overwhelmed, dragged down or emotionally drained by others.
But our highly sensitive nature can also be a gift if we can learn how to navigate this world without being overtly influenced by the attitudes and emotions of others.
Join Dr. Judith Orloff for a free webinar – "Being An Empath Today" – and discover the exceptional gifts of high sensitivity that empaths can access by staying centered and grounded.
Enjoy a Free Webinar with Dr. Judith Orloff by clicking the button below
Online Therapy/Counseling Platforms
There are 3 major online therapy services that we will be discussing.
BetterHelp, Talkspace and Online-Therapy.com
We will be breaking down how each of these platforms works, what they offer, current user reviews and the different costs for each service.
While each of the platforms discussed offer access to licensed therapists, they each offer something different and work in different ways.
By breaking it down in this way, we want to help you make a more informed decision if you are interested in trying online anxiety therapy or looking to work with a therapist on any other issues.
Note: As a BetterHelp affiliate, we may receive compensation from BetterHelp if you purchase products or services through the links provided
BetterHelp is the world's largest online therapy platform.
There are currently over 9,000 licensed therapists available to help and over 1,000,000 people have already chosen BetterHelp for anxiety, depression and other issues.
BetterHelp offers access to licensed and accredited psychologists, clinical social workers, marriage and family therapists and board licensed professional counselors.
Users are connected with a therapist based on the answers they fill out in the initial assessment and the issues they want to address.
BetterHelp offers a single rate for unlimited access to your assigned therapist – which includes unlimited, text, video, and audio messaging as well as a weekly live session.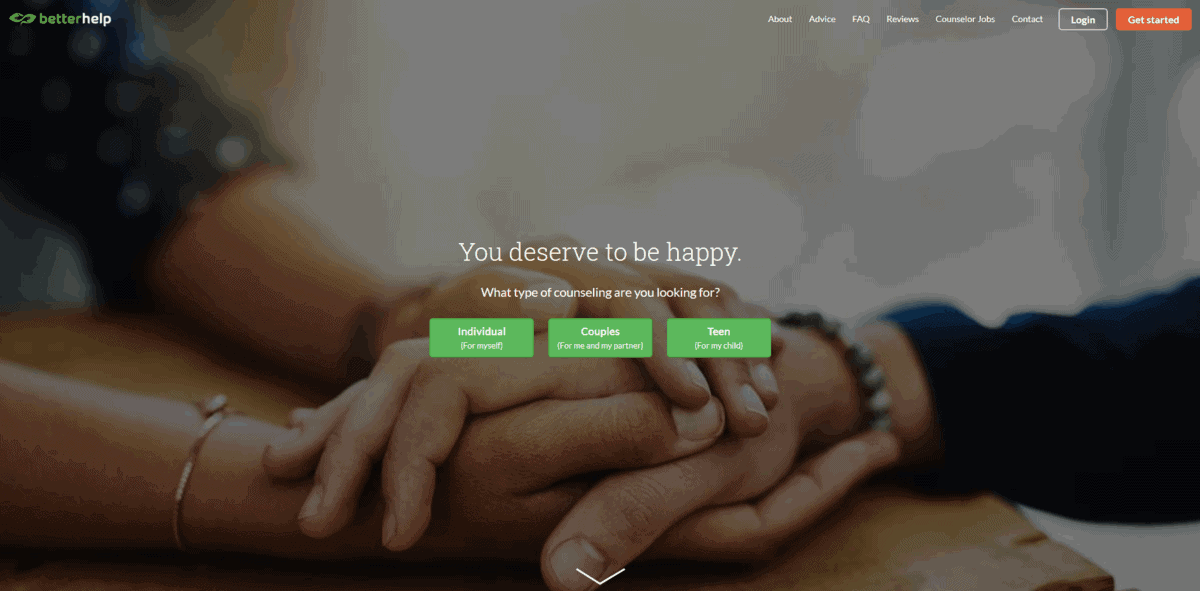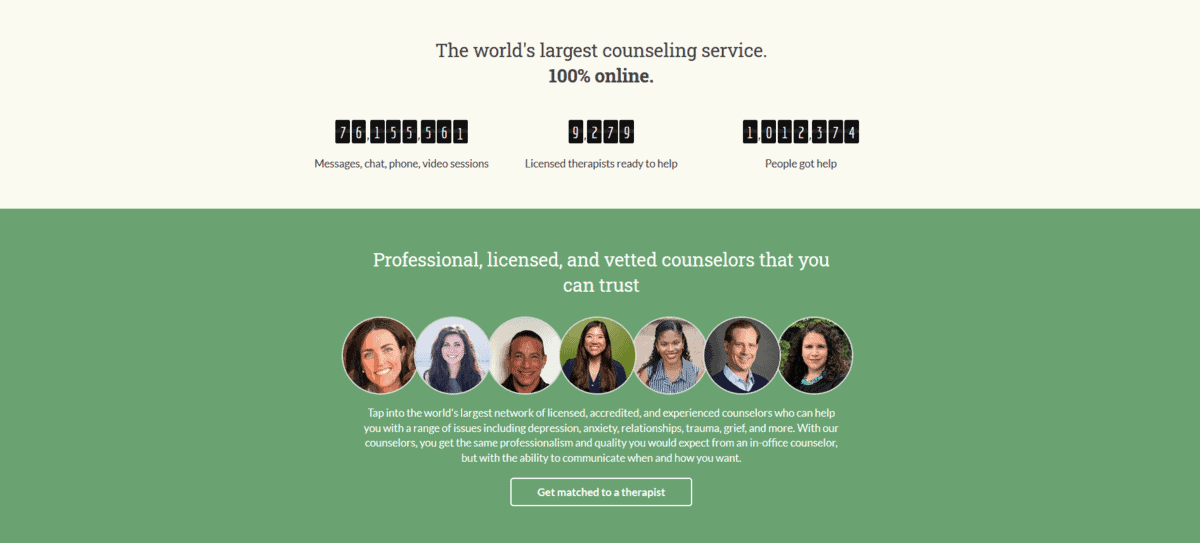 While setting up an account and filling out the assessments is free, you will have to make your first payment in order to begin using the service.
Expect to spend around 10 mins filling out questionnaires and assessments to become matched with a counselor.
The questionnaires are designed to help match you with a therapist based on your answers; your current mental and emotional state, the issues you are dealing with, the severity of the issues, etc.
In order to be properly matched, you should be as honest as possible in answering the questions.
You can highlight the areas you most want to focus on with your therapist; such as anxiety, depression, relationships, phobias, grief, etc.
You can also provide a custom message about the issues you want to address to help the therapist better serve you.
Matching with a counselor can take a few hours to a few days.
BetterHelp's network of counselors is comprised of fully licensed and accredited psychologists, counselors and therapists with a minimum of 3 years and 2,000 hours of experience.
You will be matched with a therapist based on your initial assessment you fill out when joining.
From there you have the option to specify particular qualities you prefer in your counselor: male or female, Christian-based or non-religious, gay, a person of color, older than 45, etc.
The service matches you to the therapist that best fits your criteria and the issues you want to work on.
BetterHelp offers the option to switch to a different counselor for free if the one you are working with isn't a right fit for you.
BetterHelp offers access to your counselor in four ways, which you can use as you wish.
Exchanging Messages
Live Chat
Phone Calls
Video Conferencing
All communication is done using the app (which is availble for both Apple and Android smartphones) or using the website.
BetterHelp offers unlimited access to your therapist through messaging but you will need to use the calendar to set up a date/time for live sessions.
The form of therapy you receive may differ depending on your particular therapist but can include CBT, Mindfulness-Based Therapies, or more traditional Psychotherapy.
Counselors often give out "homework," which includes worksheets, self-assessments, exercises and tasks to complete.
This can help provide a more hands-on action oriented approach to therapy, versus just talking.
BetterHelp has the best reviews (and the most reviews) out of all the online therapy platforms on this list.
Rating: 4.8 out of 5 - 61,763 reviews
Rating: 9.6 out of 10 - 87 reviews
Rating: 4.6 out of 5.0 - 1,350 reviews
Rating: 4.7 out of 5 - 15,100 reviews
Rating: 4.4 out of 5 - 9,472 reviews
BetterHelp charges one set fee for unlimited text, video and audio messaging. The cost also includes a weekly live session with your therapist.
As of this writing the cost is $65 per week, billed monthly at $260.
(When filling out the questionnaire, it does ask financial related questions, but the cost seems to be the same for everyone, regardless of what you answer, such as answering that you are unemployed)
Talkspace is one of the most popular online therapy services available, with over 1 million users and 5,000 therapists available.
Talkspace offers access to licensed therapists that are background checked and verified and have at least 3,000 hours of clinical experience.
Immediately after signing up, users are matched with a therapist based on an initial assessment with a "Matching Agent."
Once matched with a therapist, users have direct access to their therapist via the Talkspace app or via a dedicated room on desktop.
Talkspace offers 3 different plans that offer different levels of engagement with their therapist (see below).
Talkspace is one of the only online services that offer access to a licensed psychiatrist that can prescribe medications.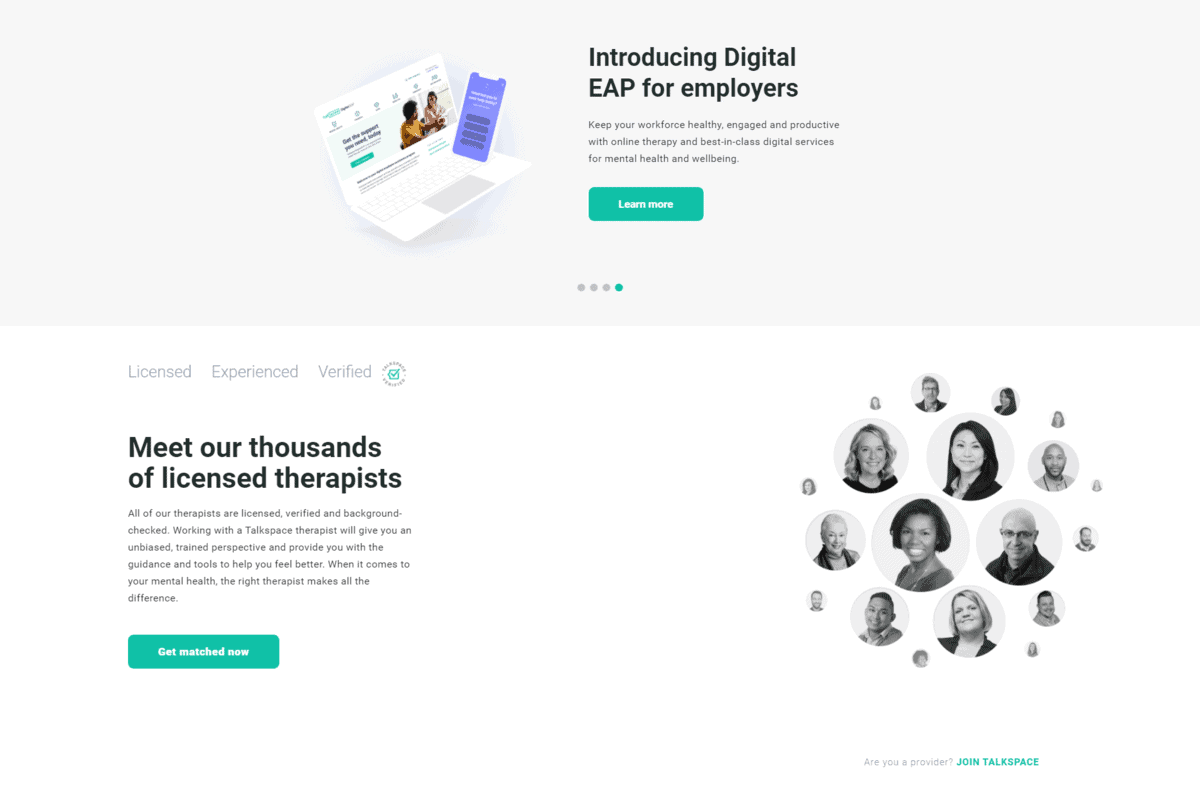 Like BetterHelp, creating an account is free but you will need to make the first month's payment to begin using the service.
Unlike BetterHelp, where you fill out an automated assessment, once you sign up with Talkspace you are immediately connected with a "Matching Agent."
This is a real person you chat with to determine the type of therapist that will best fit your particular needs.
This is one major advantage Talkspace has over BetterHelp and is something BetterHelp should consider using instead of questionnaires.
I went through the entire sign-up process to see how it worked and found the chat with the matching agent to be helpful.
The questions asked are ones that should be asked to anyone looking for therapy.
Why are you considering therapy? How long have you been dealing with the issue? Have you tried other strategies to deal with the issue? Have you done therapy in the past? Etc.

From there you can ask additional questions and specify the type of therapist you would prefer, if you have a preference.

The agent then describes the services available and determines the best fit for you.
Matching with a counselor can take a few hours to a few days.
According to Talkspace, all of their therapists are licensed and accredited and have at least 3,000 hours of clinical experience.
Talkspace verifies and background checks all of their therapists before they are accepted.
As of this writing, there are over 5,000 licensed therapists in the Talkspace network.
You can communicate your needs and preferences for a therapist with the Matching Agent during signup to help match you with the best therapist to fit your needs.
If a therapist you are matched with isn't the right fit for you, you can always request a different one.
Talkspace offers therapists trained in treatments for a variety of issues including: anxiety, depression, relationship issues, gender issues and more.
There are also separate services from Talkspace for teens and couples therapy.
Talkspace is also one of the few online services that offers psychiatry services, with direct access to a licensed psychiatrist that can prescribe medications.
Talkspace offers 3 different service options with different pricing and therapist access.
The cheapest plan offers text, audio and video messaging through the Talkspace app or on desktop through your assigned "room" on the Talkspace website.
The cheapest option lacks access to live sessions but you can message your therapist 24/7 and receive a guaranteed response 5 days per week.
The second Talkspace plan offers messaging in addition to one 30-min live session with your therapist via a phone call or video conference similar to Facetime.
The third plan offers the same as the second but adds 4 live sessions per month.
Talkspace also offers Digital EAP, an online therapy service for employers which allows their employees access to Talkspace therapy.
And as mentioned above, Talkspace offers psychiatry services for those looking for access to a licensed psychiatrist.
Talkspace claims to be the #1 rated online therapy but based on our research, the reviews for Talkspace tend to be pretty mixed.
Rating: 8.5 out of 10 - 26 reviews
Rating: 2.3 out of 5.0 - 7 reviews
Rating: 4.2 out of 5 - 11,497 reviews
Rating: 3 out of 5 - 2,344 reviews
Talkspace offers 3 plans that range from $65 per week to $99 per week (billed monthly). You can save 10% if you pay for 3 months and 20% if you pay for 6 months. The cheapest plan offers messaging only (no live sessions). The second plan offers messaging with 1 live session per month. And the most expensive option, offers messaging plus 4 live sessions per month.
(Talkspace is currently offering $65 off with coupon code APPLY65. This discount applies to the first payment only.)
Online-Therapy.com offers a different approach to online therapy.
Instead of just providing access to a therapist, Online-Therapy.com is an entirely CBT focused platform that provides training in CBT, along with worksheets and assignments that are used in conjunction with your therapist's input.
Online-Therapy.com also offers Yoga videos and supplemental resources to use alongside your therapy.
Paid plans vary, from free; which only includes the training without therapist support, to "premium"; which includes the training along with therapist input, messaging and 2 live sessions per week.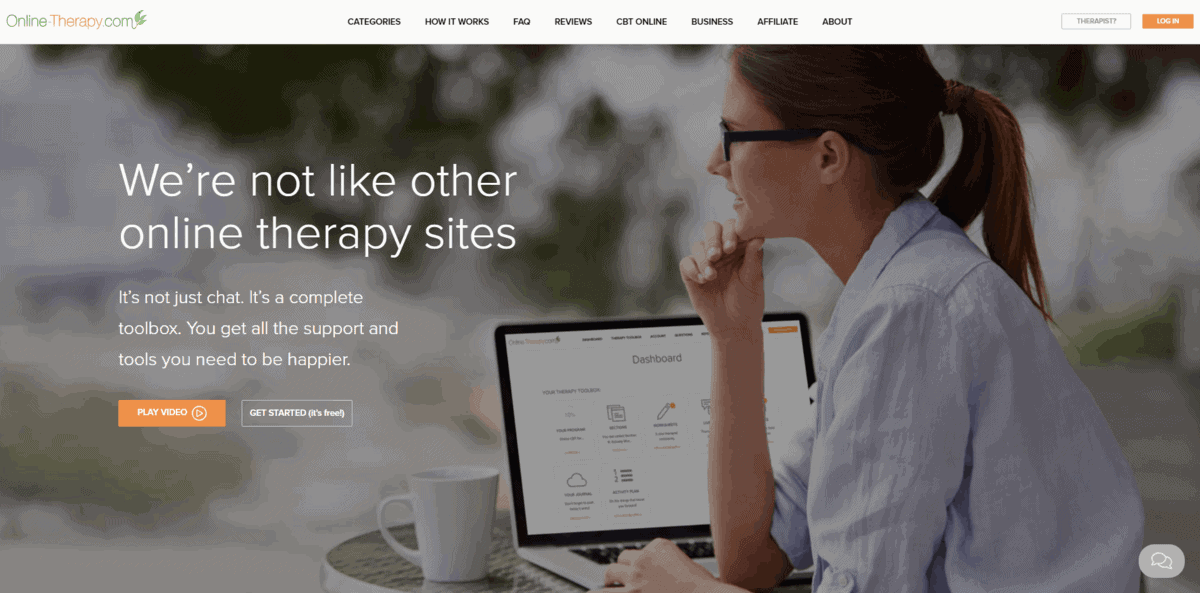 Signing up with Online-Therapy.com is 100% free and includes free access to their CBT trainings as well as additional yoga videos.
The signup process involves a quick questionnaire on the issues you want to address: anxiety, stress, depression, grief, addiction, etc.
You are assigned a therapist immediately upon completion of the questionnaire and have direct access to the trainings.
In order to receive support from your therapist, which includes feedback and support on your CBT worksheets, you will need a paid plan, which is paid monthly (see details below).
Once paid you will receive direct feedback from your therapist each day as you complete the assignments as well as access to live weekly sessions (depending on your plan).
Online-Therapy.com immediately matches you with a therapist upon signup based on the issues you want to address.
While all of the therapists are certified, Online-Therapy.com doesn't go into detail about the level of experience or vetting process of their therapists the way Talkspace and BetterHelp does.
While experience isn't everything, it can make a difference if a therapist has limited real-world experience compared to a therapist that has 5,000 hours of clinical experience under their belt.
Unlike BetterHelp or Talkspace, matching with a therapist is much less in-depth or customizable.
Like BetterHelp and Talkspace, if you are unhappy with your therapist you can request a new one.
Online-Therapy.com is entirely based in Cognitive-Behavioral Therapy (CBT) and offers a training "toolbox" with CBT training and worksheets.
The different plans available offer varying degrees of access to your therapist, who is assigned to you after completing a brief questionnaire upon signup.
Users can access the training immediately after signup and work through the lessons one at a time, completing the worksheets and other assignments.
The cheapest paid plan offers daily therapist feedback based on completion of the worksheets.
Your therapist can make suggestions, point out possible issues, or offer support in any number of ways.
The more expensive plans add the ability to message your therapist directly as well as live weekly sessions.
Reviews for Online-Therapy.com are good overall although there aren't nearly as many reviews compared to other services like BetterHelp. This is partly due to the fact that online-therapy.com lacks an app.
Online-Therapy.com Website
Rating: 4.6 out of 5 - 802 reviews
Rating: 8.4 out of 10 - 1 reviews
Rating: 4.9 out of 5 - 194 reviews
Online-Therapy.com offers 4 different plans with varying degrees of support from your therapist.
The free plan provides access to the CBT trainings, as well as a few yoga videos but obviously lacks therapist support.
The basic plan offers the trainings as well as daily therapist feedback but lacks direct messaging or live sessions.
The standard plan adds one live chat session per week and direct messaging, while the premium plan has 2 live sessions per week and adds express replies.
Online-Therapy.com is the only online therapy service on the list that offers a money back guarantee (14-days).

But it does have stipulations so be sure to read the fine print.
(They are currently offering 20% off through our link for the first month of service. The normal rate will be the rate that is crossed out below the discounted price.)
Online Therapy vs In-Person Therapy (Comparison)
Online therapy has made it easier than ever for those with anxiety, depression and other issues to receive support from a licensed therapist.
With the touch of a finger, we can have access to an experienced counselor.
Despite the convenience of online therapy,  in-person therapy is always going to be a more effective option in most cases, especially if you are dealing with more severe issues.
A real human connection (and trust) often develops between a client and their therapist during in-person forms of therapy which is often a major part of the healing process in therapy.
This connection is difficult to duplicate online.
Consider when you are talking with a friend or loved one by text or video chat versus being with the person in real life, face-to-face.
It should also be taken into consideration that the more severe your symptoms, the more likely an in-person therapy will be a much better option for you.
That's not to say that online therapy doesn't have any major advantages over traditional in-person therapy.
While in-person therapy is likely going to be the most effective option, not everyone has the ability/access to in-person therapy, either because of the cost, personal schedule or location, which can make online therapy an effective alternative.
There are also major benefits to online anxiety therapy that are definitely worth considering, benefits that traditional face-to-face therapy simply can't match.
These include: access to your therapist anytime, anywhere, lower cost, the ability to switch therapists quickly and easily and flexible payment and commitment options.
As well as the many benefits listed below.
convenient access to a licensed therapist whenever you need it
the ability to use apps, messaging, video and voice calls
counselors and therapists are licensed and accredited
can be a more cost-effective option for therapy in many cases
some online therapy services offer more flexible payment or subscription options, versus one set price
studies have confirmed that online therapy can help to promote positive life changes
some online platforms allow you to tailor the amount of therapy you need
online therapy platforms like Talkspace now offer access to a licensed psychiatrist that can prescribe medication for those who need it
most platforms make it easy to switch therapists if the therapy isn't working for you
you can continue therapy even if you leave town, go on vacation, etc.
most online therapy services offer the option to choose the length of your therapy whether it's one month or six
with most online plans you literally have access to your assigned therapist 24/7, BetterHelp, for example, allows unlimited access for one set price (although the actual number of live sessions is between you and your therapist)
there's a much wider choice of therapists online than you will likely find in your local area
many people prefer online therapy to traditional in-person therapy
it is often much easier (and more effective) to be able to send a quick message to your therapist regarding an issue as it happens (online therapy), versus trying to remember something that happened so you can tell your therapist on your next visit (traditional therapy)
it can be difficult to establish a "human connection" online or via an app
online therapy can often seem to take a "mass production" approach to therapy (treating as many people as quickly as possible) versus a personal one
no online platform can equal the effectiveness of seeing a therapist face to face in a personal setting
online therapy is not recommended for those with more severe issues such as extreme trauma, severe depression or mental illness
finding the right therapist for a specific issue you want to work on may be somewhat restricted (for instance if you are looking for a therapist that treats certain forms of OCD or one that has experience with specific body-image issues, etc)
therapists on these services are often seeing a large number of clients, making personal service less likely than in-person therapy
some of the descriptions of these services may be misleading; although it may say "unlimited sessions" or "unlimited access" it's really a decision between you and the therapist and the availability of the therapist; no therapist is going to have the time to do an unlimited number of sessions, or be able to respond immediately or be 100% available,  they will have other clients, days off, etc.
simply put, seeing a therapist face to face is always going to be more effective than seeing a therapist via text, or video calls, period
seeing a therapist in person can provide human connection and support and a safe space to work out problems
there are great therapists available that can help with issues of almost any severity, from minor worry and anxiety to trauma and bipolar disorder
you can often find therapists experienced with almost any particular issue you may have, no matter how uncommon
traditional forms of therapy are often covered by insurance, so you may not have to pay anything out of pocket
you can do much more research into a specific therapist in your area vs being connected automatically with a therapist that you know nothing about
you're much more likely to have a personal/supportive relationship with a therapist that you see face-to-face than a therapist online
seeing a therapist in their home or office can provide a safe "space" to work out your feelings and emotions
there is something incredibly healing about being in the presence of someone who listens without judgement
traditional therapy can be expensive, especially if you don't have insurance
if you live in a more rural area, access to a competent therapist or a therapist practicing the type of therapy you prefer may be limited
in-person therapy requires that you be there, in-person, so for those who travel a lot traditional in-person therapy may not always be a good option; although to be fair many therapists do assist their clients over the phone when needed
many therapists ask for some type of commitment, whether it's so many sessions or so many weeks
unlike online anxiety therapy, most traditional therapies are limited to your scheduled session with (maybe, depending on the therapist) a few texts or calls when absolutely needed
often things happen throughout the week that bother you but you have to wait for the next session to talk about it, which can take the strength out of the issue
Know someone that would find this content helpful?
The Most Important Factor in Therapy: The Therapist
Much of the benefit of any online anxiety therapy platform you choose is going to boil down to the particular therapist you work with.
In fact, I would say the effectiveness of any form of therapy, including online therapy, depends much more on the therapist you are working with, than it does on the particular platform, app, or even the form of therapy chosen.
Just like in traditional face-to-face therapy, a great therapist can offer so much more than a mediocre or uncaring one.
An exceptional therapist that is attentive, accepting and supportive can be a profound guide and support on your journey to overcoming anxiety (or whatever issue you choose to address).
If you chose online therapy for anxiety and it doesn't seem to work much for you, it is worth taking an honest look at the relationship you have with the therapist before dismissing a particular form of therapy or online platform as ineffective.
One of the valuable benefits of online therapy is that most platforms allow you to easily switch to a different therapist if the current therapist isn't working out for the issues you want to address.
This makes it easy to change things up when necessary to find the right therapist for you – the therapist that best fits your particular needs, issues and lifestyle.
So... Which Platform Offers the Best Online Therapy for Anxiety
If you've read enough and you're ready to get started, you probably want to know which service offers the best online anxiety therapy.
As mentioned above, a major part of your experience (and success) with any form of therapy is going to come down to the particular therapist that you work with.
A compassionate, understanding and experienced therapist that puts in the effort to listen and offers real support is going to be significantly more beneficial to your goal than the particular format or type of therapy you choose.
Another important factor is your willingness to change and do the work necessary for lasting change.
Those 2 important points aside, we do have our suggestions based on our experience and research…
We believe the best option for online therapy is BetterHelp, for several reasons.
Reviews: The vast amount of positive reviews currently available is beyond any other online therapy platform out there
Price: BetterHelp offers unlimited access to a therapist with weekly live sessions for one flat rate of $65 per week (billed monthly), compare that to Talkspace where you would have to pay $99 per week (billed monthly) for similar service. (Talkspace's cheapest plan is $65 per week but lacks live sessions with a therapist).
Therapists: BetterHelp's therapists are highly vetted and most users report positive experiences
So, we think BetterHelp is simply a better service with more therapy for your money than Talkspace.
Online-Therapy.com is more of an alternative to the big two (Talkspace & BetterHelp) since it takes a slightly different approach to online therapy.
But if you prefer to learn on your own, at your own pace with a controlled amount of therapist support and if you prefer a CBT approach to therapy, than Online-Therapy.com could be a good (and less expensive) alternative to the more traditional approach provided by the other two options.
Whatever option you choose, change essentially comes from inside of you.
Therapy (and the therapist in particular) is there to provide an open, safe place for you to share your thoughts and fears.
A supportive therapist can provide guidance and support to help you to take the necessary steps to overcome the limitations you have placed on yourself.
But in the end, it's up to you to take the guidance given and take the steps to change.
It's not always an easy path, but having additional support and a compassionate ear can make it so you don't have to take the journey alone.