The Best Apps for Anxiety: Our Favorite Meditation, Relaxation & Self-Help Apps
Discover the best apps for anxiety as we reveal our favorites. Meditation apps, breathing apps, self-help apps and more. Which did we choose as the absolute best?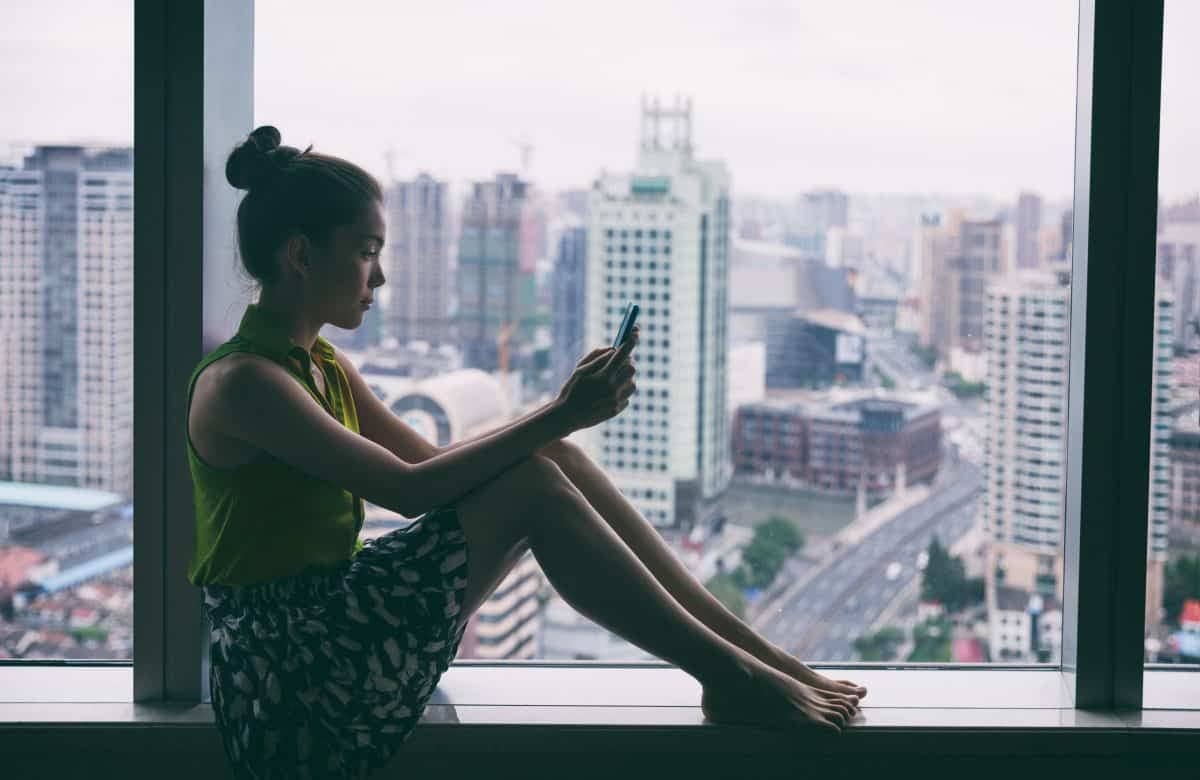 Whether you're looking to learn meditation, promote relaxation, tips and strategies for dealing with anxiety or want to chat directly with a therapist – there's an app for that.
In this article we will be weeding through the literally hundreds of meditation apps, breathing apps, self-help apps and therapy apps available, choosing our favorite apps for anxiety.
Since most of us carry our phones with us just about everywhere we go, having an app that we can use anywhere at any time can be extremely useful.
We have purposefully chosen apps that are free to use or free to try and are completely ad free.
While using an app for anxiety can be helpful on its own, using this technology in conjunction with other strategies is the best way to truly support and serve our path to overcoming anxiety.
Let's dive in…
Know Someone That Would Find This Content Helpful?
This Month's Featured Course
(January 2023)
Many of us with anxiety tend to have a sensitive or empathic nature – we may often feel overwhelmed, dragged down or emotionally drained by others.
But our highly sensitive nature can also be a gift if we can learn how to navigate this world without being overtly influenced by the attitudes and emotions of others.
Join Dr. Judith Orloff for a free webinar – "Being An Empath Today" – and discover the exceptional gifts of high sensitivity that empaths can access by staying centered and grounded.
Enjoy a Free Webinar with Dr. Judith Orloff by clicking the button below
There is no shortage of meditation apps available. Which can make choosing the best meditation app difficult.
But our choice was a no-brainer.
While there are plenty of good apps for learning and practicing meditation, Headspace, Calm, Aura, etc., our top pick offers the largest library of meditations available, absolutely FREE and features some the best teachers in the world.
If you're looking for a great meditation app for anxiety or you want to develop a serious practice read on…
Our personal favorite meditation app for anxiety and our favorite meditation app period, is Insight Timer.
Insight Timer offers the largest FREE library of meditations anywhere.
There are currently over 45,000(!) guided meditation and music tracks available absolutely free to use on their app. Which is also free to download.
You can search for a specific use or benefit: stress, anxiety, traditional meditation, sleep and more.
You can search for a particular practice: Guided Imagery, Body Scan, Mindfulness, Zen, Self-Compassion….
You can even search for tracks based in a particular tradition: Buddhism, Hinduism, Christianity, Taoism, Judaism, Sufism or many other traditions.
Insight Timer isn't limited to just meditation or spiritual traditions.
There are also science-based tracks available based on everything from Neuroscience to Psychology to several other traditional sciences.
The tracks available are very high quality and include notable teachers such as Tara Brach, Rick Hanson, Thich Nhat Hahn, Jack Cornfield, Sharon Salzberg, Kristin Neff and more.
And if that wasn't already enough they also offer talks, lectures, interviews with notable thought leaders and spiritual teachers.
Insight Timer is extremely generous with the amount of content that they offer for free.
Insight Timer really is one of the top free apps for anxiety.
And there is even more content available with the paid plan for those who want to dive into courses and premium content. But it's completely optional.
If you've been looking for an app to help you learn and practice meditation you really can't do much better than Insight Timer.
It's truly a great app and one we give our highest recommendation.
Main Website: insighttimer.com
Price: Free or Paid (MemberPlus unlocks hundreds of courses and premium features for $60 a year, while not necessary, it's an exceptional deal if you're interested in going deeper with courses)
OS: Apple or Android
Ads: No
Proper breathing is essential for reducing stress, clearing the mind and promoting relaxation.
In fact, we believe that the practice of softening, deepening and/or slowing the breath is one of the simplest and most effective strategies available to reduce anxiety on a moment by moment basis.
Learning to practice deep relaxing breathing shouldn't be complicated.
In fact, proper breathing is simple, straight forward and natural.
The two breathing apps we have chosen, follow this simple, straight forward model, offering a simple approach to timing the duration and depth of the breath for relaxation and calm.
Prana Breath offers a simple to use app with preset programs depending on your personal need in the moment.
These preset programs include proper breathing duration for such purposes as calming, relaxing, power breathing, clearing the mind and more.
Simply start the program and breath in time with the graphic displayed on the screen.
While all of the programs are preset, you can customize everything to exactly how you want.
Change the total duration of the exercise, complexity level, breath ratio, cycle and duration, sounds and more.
There's really nothing complicated about this app.
Prana Breath provides a simple interface free of distractions or ads to help manage the breath for relaxation, stress, anxiety or any other purpose.
Main Website: pranabreath.info
Price: Free or Paid (Guru unlocks additional features but definitely isn't needed/required: $1.29 for 3 months, $3.99 for 1 year or a donation of $9.99, $10.99 or $15.00 for lifetime)
Breathe2Relax is a simple, free app that helps us to properly time our breathing to promote calm and relaxation.
There's nothing fancy about this app but it's clean, ad-free, simple to use and free to download.
It teaches one of the most fundamental skills for calming the mind and body – proper breathing.
You can customize the length of the inhale and the exhale, the background music and the background image to best suit your mind for relaxation.
Deep breathing is an essential technique for calming the mind and body. Techniques such as deep belly breathing or diaphragmatic breathing can help to relieve symptoms of stress and anxiety.
This is an app with one purpose, to assist us in proper breathing for relaxation.
Tip: When setting the length of the inhale and the exhale aim for what is most comfortable for you for slow and complete breaths. Ideally your exhale should be longer than your inhale. For example, inhale 4, exhale 8 or, inhale 5, exhale 10. Longer exhales promote activation of the parasympathetic nervous system and the vagus nerve (ie. promotes relaxation)
Main Website: N/A
Price: Free
OS: Apple or Android
Ads: No
Brainwave Entrainment App
Brainwave entrainment, such as binaural beats and isochronic tones, allow us to enter deep states of concentration, relaxation or meditation quickly and easily.
While there aren't very many quality brainwave entrainment apps out there, our choice is one that provides some of the best binaural beats and isochronic tones programs anywhere.
If you've never heard of brainwave entrainment and what to know more about how it works, you can check out our article:
It should come as no surprise that the iAwake Technologies app is our favorite brainwave entrainment app.
We've recommended their products many times in the past.
iAwake offers some of the most powerful brainwave entrainment programs using both binaural beats and isochronic tones.
iAwake's programs can be extremely beneficial if you're looking to reduce stress and anxiety, sleep better, develop or strengthen a meditation practice, increase creativity and flow or reach deep states of inner peace and expanded awareness.
iAwake offers the brainwave entrainment programs we use and recommend.
After purchasing tracks from iAwake, you can download the app for free.
The app stores your purchases where you can easily access and stream from your library.
You can also make custom playlists from your tracks.
The app offers free samples of other tracks and each week there is a new free "featured track" you can listen to in full (no purchase required).
The app itself is clean, visually appealing, easy to use and ad-free.
Tip: Our personal favorite tracks and programs for anxiety include Audio Serenity, Profound Releasing and Refuge. For insomnia and sleep we recommend Deep Delta and Rainstorm Sleepwave. And for meditation practice: Profound Meditation Program.
iAwake Technologies Details
Main Website: iawaketechnologies.com
Price: Free (tracks must be purchased from the iAwake website first in order to stream them on the app)
OS: Apple or Android
Ads: No
Best Thought Recording App (Thought/Mood Log)
Writing down our thoughts is an effective practice in many forms of therapy.
The simple act of writing things down is also therapeutic in and of itself.
Unfortunately, trying to write things down "later" by relying on our memory often doesn't work out very well.
We may also find ourselves in situations where writing things down on paper isn't an option.
But we almost always have our phones….
Enter thought recording apps – otherwise known as thought diaries/logs.
One of the hallmarks of Cognitive Behavioral Therapy (CBT) is the use of worksheets, journaling and the recording of thoughts.
The purpose of this is simple, by writing down our thoughts we can directly identify and challenge negative or distorted thinking patterns.
CBT Thought Diary offers a journal for our thoughts, just like other free journal apps, but it also has additional features that allow us to challenge our negative thoughts, recognize cognitive distortions, and come up with alternative thoughts and interpretations.
These additional features are what separates this app from other journaling and thought tracker apps.
CBT Thought Diary also allows us to track our moods and emotions, which can be a helpful feature.
The app itself is relatively simple to use and straightforward.
It is also free of unnecessary ads or distractions.
Overall CBT Thought Diary is a great option if you prefer to record your thoughts using your phone instead of pen and paper.
While writing down our thoughts and working them out with pen and paper is often more effective than typing on a phone or computer – for those on the go or for those that simply prefer typing over writing, the CBT Thought Diary is a good alternative.
Having the ability to analyze your thoughts, identify distortions and challenge your thoughts directly in the app as they occur makes this a potentially effective app for anxiety.
CBT Thought Diary Details
Main Website: moodtools.org
Price: Free or Paid (Pro Mode offers additional features for $4.99 month or $29.99 a year, definitely not necessary to use the app though)
OS: Apple or Android
Ads: No
Best Self-Help Apps (All-in-one Apps)
Most apps tend to focus on one or two primary areas – such as meditation and mindfulness or thought tracking and self assessment
The three apps below offer more of an all-in-one platform for managing anxiety.
These self-help apps offer multiple strategies, approaches and tools all in a single app.
The apps we will be discussing offer information about anxiety, meditation, monitoring and journaling, breathing techniques as well as other tools and strategies.
There are many features available for free in each of these apps but to unlock all of the content you will have to pay for access.
Pricing is displayed below.
The DARE Anxiety App is based on the popular book of the same name; DARE by Barry McDonagh
While it's not necessary to read the book to use the app, it may help you to better understand the DARE process and Mr. McDonagh's approach to anxiety.
But it's not required.
The DARE app offers specific information and strategies based on the particular area you need help with.
The different sections of the app include: Anxiety Relief, Stop Panic Attacks, End Insomnia, and Overcome Anxiety.
Once you click on an area you want to work on, the content is delivered as short audio tracks.
There are also breathing and meditation practices available.
The DARE app also features specific strategies for relaxation, such as guided meditation and nature sounds.
The app also has a (paid) "Challenges" area, where the app helps guide you through the necessary steps to face particular fears and challenges such as Driving Anxiety and Safety Crutches.
One pretty smart feature of the app is the "SOS" area, where you can find audio tracks for specific issues you may be dealing with in the moment.
For example: "Panic Attack," "Racing Mind," or "Setback."
Overall the app itself is easy to use, well put together (although not as crisp or visually impressive as the other two apps on this list) and distraction and ad-free.
While many of the app's features are locked under a paid subscription plan, the DARE anxiety app does offer a decent amount of content for free, making it worth trying out especially if you found the book helpful.
OS: Apple or Android
Ads: No
The Unwinding Anxiety app is a step by step program developed by Dr. Jud Brewer M.D., a noted psychiatrist and neuroscientist.
The strategies behind the Unwinding Anxiety program are primarily mindfulness-based but there is also information about anxiety, as well as goal setting and mood and self-assessments.
Content in the app is delivered mostly through short video lessons and questionnaires that follow a step-by-step formula.
Each week contains 7 modules (one for each day) where you can watch the videos and follow along with the exercises.
Each module contains 7-10 lessons.
The free portion of the app includes the first 4 modules of week 1.
If you wish to continue with the program you will have to pay for a subscription, which also includes weekly group coaching calls and a moderated community you can join.
Overall the app itself is sleek, well put together and simple to use.
Unwinding Anxiety is the most expensive app on the list but it does offer a lot of content as well as coaching and community support, for those who are looking for more than just video or audio training.
Unwinding Anxiety App Details
Main Website: unwindinganxiety.com
Price: Free or Paid (Paid subscription offers additional features such as coaching calls for $29.99 month, $139.99 6-months or $209.99 1-year)
OS: Apple or Android
Ads: No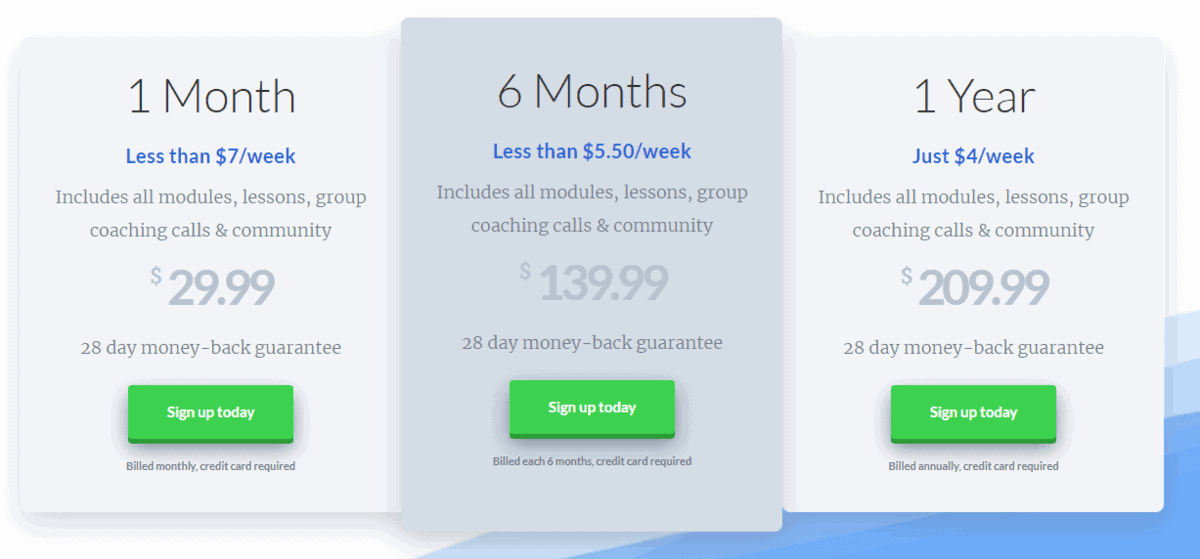 Sanvello is an all-in-one mental health app featuring self-help tools and strategies, peer support, one-on-one coaching and therapy.
It is currently the most popular app for stress, anxiety and depression with over 3 million users.
Sanvello is essentially multiple apps crammed into one. With tools such as meditation tracks, thought logs, and self-assessments as well as support in the form of coaching and therapy.
The self-help section is loaded with tools and classes, most of which require a paid upgrade to access.
When you pay for coaching you receive 1 on 1 access to a trained coach who you can message privately for support as well as access to group video sessions.
Paid therapy provides access to a licensed therapist or psychiatrist through live video sessions. (The therapy option is currently only available in CO, MA, RI and TX).
The Sanvello app is well designed and one of the most attractive apps on the list.
It contains quite a lot of content and training, although the content is displayed all over the place, making it somewhat overwhelming to navigate until you use it for a while.
Overall, the Sanvello app provides a wide assortment of strategies all within a single appealing app.
Just be aware that in order to access much of the deeper content you will have to pay a subscription fee.
OS: Apple or Android
Ads: No
(Sanvello is covered under many insurance plans, so you could potentially pay nothing)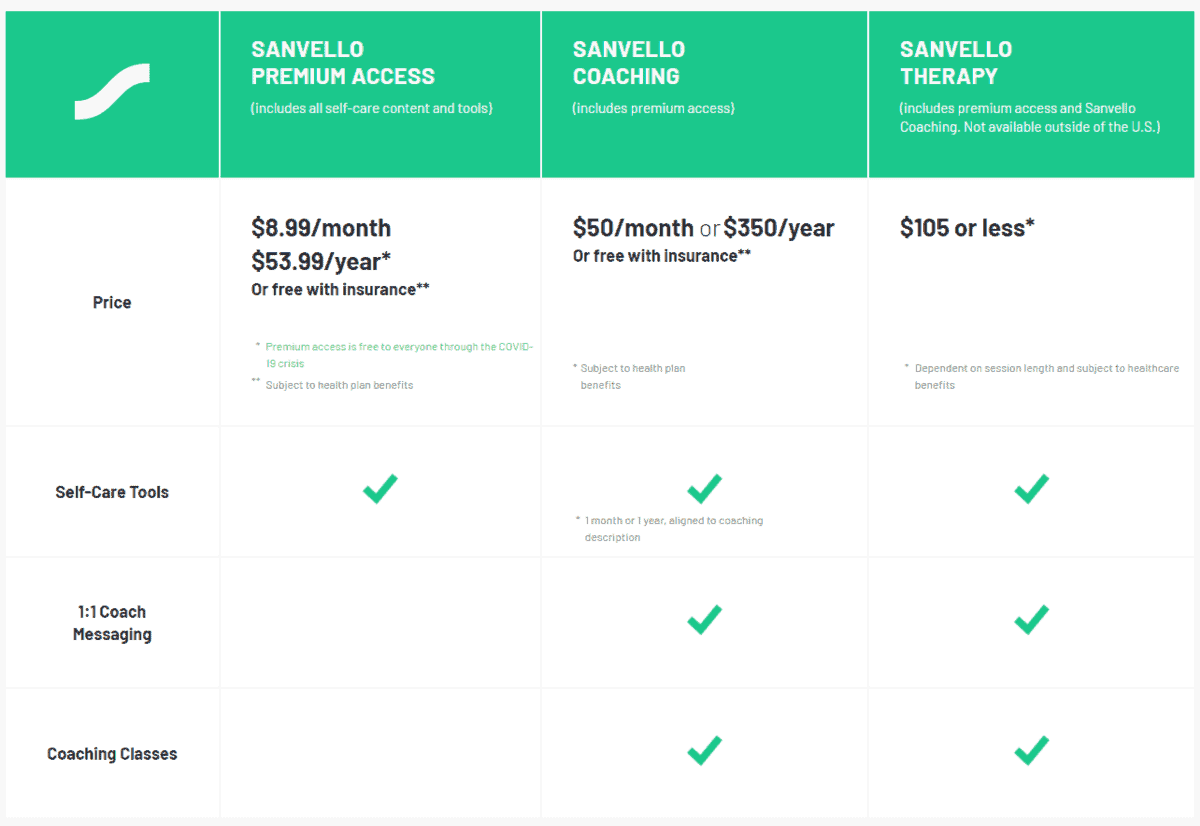 Related Articles You May Find Helpful: